Cardiology Program Annual Cost of Cardiovascular Disease in the US. By 2035, the cost will skyrocket to $1.1 trillion¹
Cardiac Imaging | Interventional Cardiology | Devices
HealthHelp was the first in the industry to introduce comprehensive cardiology benefits management, including diagnostic testing, interventional procedures, and cardiac devices. The program works to deliver the most appropriate utilization of services for a variety of conditions before and after diagnosis.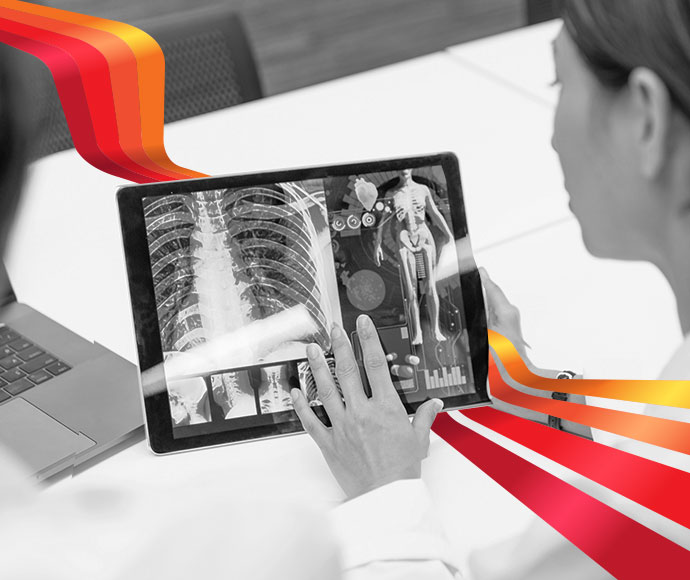 ---
Program Results
HealthHelp was given a 99% satisfaction rating among providers. Since program inception in 2009, our process has resulted in:
15-20% reduction in unnecessary Percutaneous Coronary Interventions (angioplasty and stents)
15-20% reduction, over 5 years in diagnostic catheterizations without having any prior non-invasive imaging
5% reduction, over 3 years in monthly length of use for wearable cardioverter defibrillators
Enhanced quality care and member safety while reducing utilization
Reduction in repeat cardiac imaging and inappropriate utilization of cardiology services
Collaborative peer-to-peer reviews by academically affiliated specialists
---
Meet the Medical Director

Anthony DeFrance, MD
|
Medical Director of Cardiology
Dr. DeFrance has a unique background including clinical interventional cardiologist, chief medical officer, educator, outcomes researcher and entrepreneur. He has expertise in appropriate utilization of technology in medicine, healthcare economics, value based metrics, and educational design and delivery. Dr. DeFrance is currently the Medical Director of Cardiology for HealthHelp. He has worked with HealthHelp for over ten years at one point serving as chief medical officer. In these capacities he has led large teams of healthcare professionals in writing evidence based appropriate care guidelines and rule sets which improve the quality and safety of medicine for over 20 million people in the US while also creating sustained savings in healthcare. He has also designed clinical decision support systems that are currently in use helping to improve patient care. In 2018 Dr. DeFrance founded MedMentor, an education company that provides state of the art CME content using the latest in eLearning science and online delivery platforms. Dr. DeFrance is also the founder and President of Digimedica, a consulting and educational design and delivery company for healthcare professionals, hospitals, and universities. He is passionate about creating systems to optimize knowledge transfer and has won numerous awards for teaching excellence during his career. He is an expert in cardiovascular CT imaging and has taught more than 3,000 physicians how to perform and interpret cardiac CT nationally and internationally and has lectured extensively on this subject. Dr. DeFrance has a stellar reputation in the medical field and continues work to improve the quality and safety of patient care in the US.
Cardiology Consult
HealthHelp ensures that members with cardiac conditions are on the path to better outcomes.
Patient Clinical Information*
Patient diagnosis
Clinical indication
Test ordered
Reason for test
Patient symptoms and duration
Laboratory studies
Prior treatments
High or low-risk indication
Supporting clinical information
Automated Decision Support
Providers submit procedure requests. If the request meets evidence-based criteria, it is automatically approved.
If the request falls outside of pre-set clinical guidelines, it is sent to nurse review.
Specialty Nurse Review
HealthHelp nurses evaluate requests, gather additional information and provide approvals for requests that meet clinical guidelines. For requests that fall outside of these criteria, nurses will present an alternative care pathway as guided by the proprietary Clinical Decision Support system.
If not approved at the nurse review level, the request is sent for a peer-to-peer consultation.
Peer-to-Peer Consultation
A HealthHelp physician reviews the request. After consultation with the requesting provider, the request will either be approved by the expert reviewer, or withdrawn/changed by the requesting provider.

Medically Appropriate Procedures*
Cardiac Catheterization
Echocardiography
Stress Echo
Cardiac Ablation
Electrophysiologic Testing
Doppler Flow of Extremities
Percutaneous Coronary Intervention (PCI)
Implantable Cardiac Defibrillators
Implantable Cardiac Pacemakers
Cardiac Re-synchronization Therapy (CRT-D)
Cardiac Re-synchronization Therapy (CRT-P)
Cardiac Durable Medical Equipment
Cardiac Left Ventricular Pacing Electrode Add-on
Left Ventricular Assist Devices (LVADs)
Loop Recorder Implants
Cardiac Wearable Cardioverter-Defibrillator (WCD)
Cardiac CT
Cardiac CT Angiogram (CCTA)
Cardiac MRI
Cardiac PET
*Lists not comprehensive
¹ Cardiovascular Disease: A Costly Burden for America – Projections Through 2035; 2017, American Heart Association 1/17DS11775