Musculoskeletal (MSK) Program Annual US Direct and Indirect Costs for Bone and Joint Health
Including Spine and Orthopedic Implant Management
HealthHelp provides a fully integrated pain, spine, musculoskeletal, and orthopedic implant program for management of chronic pain and bone and joint health.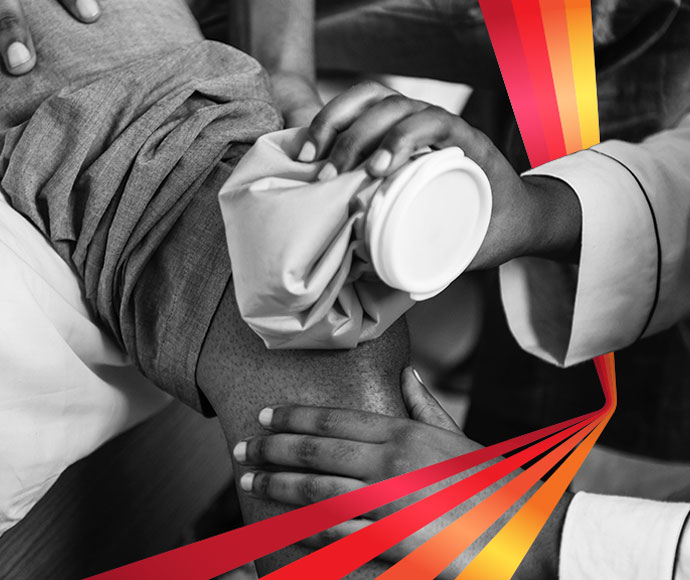 ---
Program Overview
Utilization of proprietary guidelines developed from published clinical evidence-based studies
>10% impact on MSK surgeries
>25% impact on inpatient redirection
>6% impact on pain management
Increased appropriate use of physical therapy with proven improvement in patient outcomes
Significant overall decrease in surgical interventions and implants
Greater consumer engagement via effective member-centric health and wellness and incentive programs
Specific decrease in low-back pain-related spinal interventions
Improvement in quality and safety for members thus qualifying for the MLR requirement under ACA law
---
Meet the Medical Director

Harbinder Chada, MD
|
Medical Director of Musculoskeletal Services
Dr. Harbinder Chadha is an orthopaedic surgeon affiliated with Sharp Chula Vista Medical Center and Scripps Mercy Hospital. He holds certification from the American Board of Orthopaedic Surgery and is a member of professional organizations including the American Medical Association, the American Academy of Orthopaedic Surgery, the Western Orthopaedic Association and the California Medical Association. For his undergraduate degree, Dr. Chadha attended Alma College, graduating summa cum laude. He pursued his medical degree at the Wayne State University School of Medicine. Dr. Chadha completed his residency training at the university's Department of Orthopaedic Surgery, followed by a fellowship program in adult reconstruction at Scripps Clinic and Research Foundation.
Member Clinical Information*
Member history (falls, injuries, or stress)
Onset of pain
Direction of pain
Nature of pain (shooting, stabbing)
Relief/aggravation causes
Differentiation of pain
Other member symptoms
Current or suspected diagnosis
Clinical indication
Summary of Clinical Findings (range of motion)
Radiologic findings (joint space preservation)
Functional assessment
Reason for test
Test ordered
Treatment, procedure, or device Requested
Member medications and duration (use of analgesics)
Prior medical management history
Prior use of injectables and branch blocks
Prior invasive procedures or surgeries
For The Evaluation Of:
Osteoarthritis (OA)
Rheumatoid arthritis (RA) and juvenile RA (JRA)
Avascular necrosis (AVN) or osteonecrosis (ON)
Congenital dislocation of the hip joint (CDH)
Hip dysplasia
Acetabular dysplasia (shallow hip socket)/protrusion
Benign and malignant bone tumors
Paget's disease arthritis
Ankylosing spondylitis
Frozen, stiff, loose joint
Traumatized and malaligned joint
Fractures
Automated Decision Support

Providers submit procedure requests. If the request meets evidence-based criteria, it is automatically approved.
If the request falls outside of pre-set clinical guidelines, it is sent to nurse review.
Specialty Nurse Review

HealthHelp nurses evaluate requests, gather additional information and provide approvals for requests that meet clinical guidelines. For requests that fall outside of these criteria, nurses will present an alternative care pathway as guided by the proprietary Clinical Decision Support system.
If not approved at the nurse review level, the request is sent for a peer-to-peer consultation.
Peer-to-Peer Consultation

A HealthHelp physician reviews the request. After consultation with the requesting provider, the request will either be approved by the expert reviewer, or withdrawn/changed by the requesting provider.

Medically Appropriate Procedures*
The program covers the use of diagnostic procedures, invasive interventional procedures, PT/OT therapies, injectables, prostheses, and surgical implantable devices.
Non-Surgical Pain Management:
Physical Medicine Pain Treatments
Epidural Steroid Injections
Facet Joint and Medial Branch Blocks
Sacroiliac (SI) Joint Injections
Intrathecal Morphine
Intrathecal Morphine Pump
Spinal Cord Stimulators (neurostimulators)
---
Surgical Pain Management:
Artificial Disc
Intrathecal Pain Pump
Kyphoplasty/Vertebroplasty
Lumbar Discectomy
Lumbar Endoscopic Discectomy
Lumbar Foraminotomy
Lumbar Foraminotomy/Facetectomy
Lumbar Fusion
Lumbar Laminectomy
Minimally Invasive Lumbar Surgery
Spinal Cord Stimulator
---
Spine Management/Hip and Knee:
Single and Double-Lock Screw Systems
Spinal Corpectomy Cages
Cervical Plate Systems
Steffee Implants
Harrington Implants
Neurostimulators (Spine)
Drug Infusion Systems (chronic pain, spasticity)
---
Upper Extremity, Wrist, Femur, Tibia, Shoulder, Elbow, and Foot:
Myoelectric prosthesis
Body-powered prosthesis
Constrained vs. Unconstrained
Condylar blade plate
Grosse-kempf (GK) nail
Buttress plate
Neer's prosthesis
Souter's prosthesis
Baksi's prosthesis
Single axis
SACH Dynamic response
*Lists not comprehensive